Examination  development for power engineers as well as associated operators, and refrigeration operators is developed by the Standardization of Power Engineers Examination Committee (SOPEEC). The Committee works with and receives consultation and advisement by the Interprovincial Power Engineer Examination Curriculum Committee (IPEEC) who is responsible for development of the material that students and learners must adhere to and the standards that must be met in order to be successful. The Association of Chief Inspectors directs (SOPEEC) on which syllabi items must be tested on, which in turn is communicated with (IPECC) who develops the curriculum.
During these development stages colleges, regulators, and industry are also involved to provide information and recommendations to (SOPEEC) which helps keep the industry current to changes and developments.
The Institute of Power Engineers acts on behalf of all power engineers Canada wide to build connections, foster open communications and develop relationships with all stakeholders. Additionally the (IPE) consults with (SOPEEC) on recommendations for examinations which also includes curriculum and the (IPECC). The Institute of Power Engineers is comprised up of power engineers, many of which work directly with the regulating and developing agencies. As we are an integral part of the history of power engineering in Canada we continue to promote the professional values and continued success of the profession.
Organizations:
Association of Chief Boiler and Pressure Vessel Inspectors (ACI)
Standardization of Power Engineers Examinations Committee (SOPEEC)
Interprovincial Power Engineer Curriculum Committee (IPECC)
Institute of Power Engineers (IPE)
---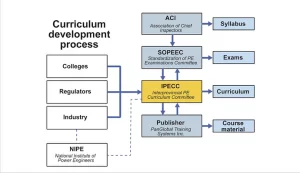 Image from IPECC website.